Chai Guide
Not sure what chai to try? Take our chai quiz or browse below at our range of flavours and top tips.
WHY Chai?
Chai is fantastic for warming you from the inside out. It's a delicate blend of spices which results in a unique effect on the body. As all the spices individually hold benefits, they create a bit of a super drink when mixed together! Chai has been said to contain anti-inflammatory properties, as well as being great for lowering blood pressure, managing blood sugar, boosting brain energy & improving cardiovascular health too.
HAVE YOU TRIED CHAI?
Hot
Have you ever tried your Chai hot? You can create Chai lattes or hot steamers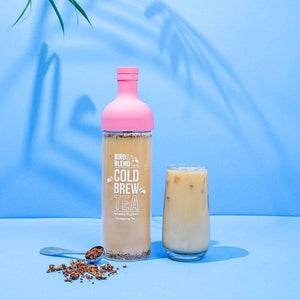 Cold
What about iced for the summer months, you can create iced chai lattes & can even do it in your cold brew tea bottle.
HOW TO MAKE CHAI
1. Add 2 heaped teaspoons to 1 cup of milk
2. Heat on the stove or pop it in the microwave
3. Strain out in your fave mug with an insfuser/ strainer
4. Sprinkle cinnamon, chocolate or nutmeg!
Top Tip!
Add honey for some
extra sweetness!